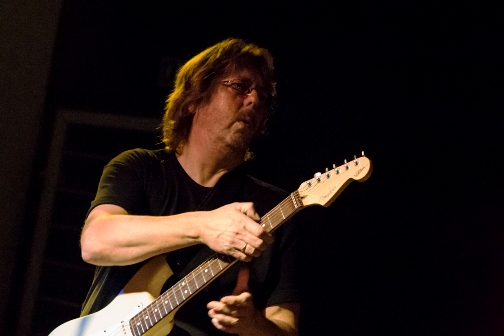 OLE FRIMER
The singer and guitarist Ole Frimer has been a prominent figure in the Scandinavian music landscape for decades. With his unique "flesh to string" technique, songwriting and vocal work, he has gained international recognition and has received awards for it in his home country Denmark and abroad. A total of 12 albums have been created over time. Ole Frimer Band's latest release "Live at Blues Baltica" from 2015 received great attention in both Europe and the US, and the band thus expanded their concert activities to large parts of Europe.
A pick of recent words from the international press:

Bill Wilson, Billtown Blues Association, Pensylvania, USA
Ole Frimer is a superb guitarist. It doesn't get any better than this, even in the heart of Chicago.
Giovanni Pilato, Bluebird Reviews, Massachusetts, USA
Frimer showcases his great ability not just on guitar but also on vocals, delivering excellent and flawless singing.
Ian D. Hall, Liverpool Sound and Vison, UK
One of Europe's greats.
Johnny Andreassen, Bluesnews, Norway
There is nobody in our part of the world, who has so much soul and spirit in both melodies and guitar playing as Denmarks blues jewel Ole Frimer.

Max W. Sievert, Jefferson, Sweden
It's a true joy to have such a capasity across the strait, a truly great guitarist with a wonderful phrasing.

Mike Kempf, Rocktimes, Germany
Acrobatic and magnificent guitar player.

Filip Heidinga, Blues magazine, Holland
A guitar player of great class.
Sangeren og guitaristen Ole Frimer har været en fremtrædende skikkelse i det danske musiklandskab i årtier. Med sin unikke "flesh to string"- teknik, sangskrivning og vokal arbejde, har han høstet international anerkendelse og har modtaget priser for det, i både ind- bg udland. I alt 12 albums er det blevet til gennem tiden. Ole Frimer Bands seneste udgivelse "Live at Blues Baltica" fra 2015 fik stor opmærksomhed i både Europa og i USA, og bandet udvidede dermed deres koncertvirksomhed til store dele af det europæiske kontinent.

Den skandinaviske presse skrev for nylig:

Johnny Andreassen, Bluesnews - Norge
Det er ingen jeg kan tenke på i øyeblikket som har så mye sjel og nerve i både melodier og gitarspill som Ole Frimer i vår del av verden. Den danske bluesgitaristen har en av de mest følsomme og nydeligste toner i sin bluesgitar på denne siden av Peter Green.
Max W. Sievert, Jefferson - Sweden
En sann glädje att ha en sådan förmåga på andra sidan sundet, en verkligt duktig gitarrist med en underbar frasering.
Henning Høeg, BT - Danmark
Som bluessanger og guitarist kan Ole snildt følge med samtlige udenlandske forbilleder.